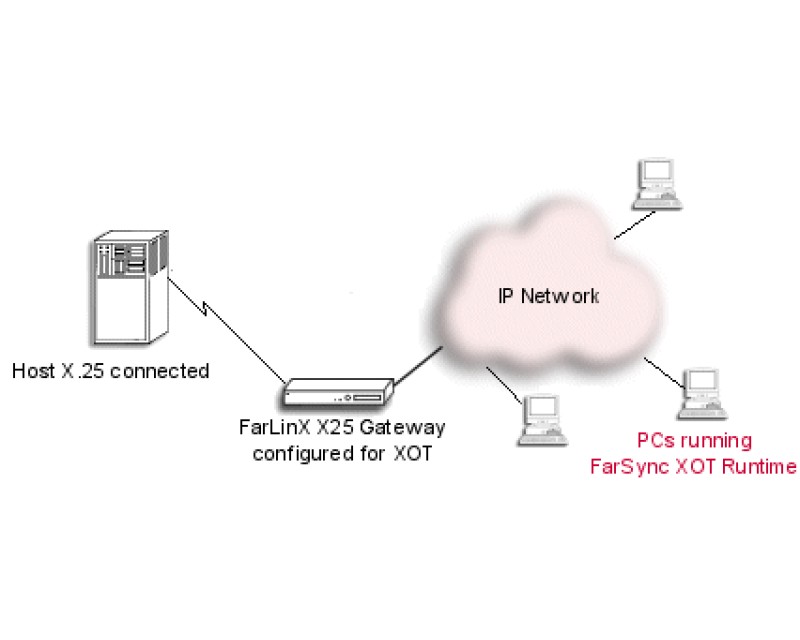 FarSync XOT Runtime - Windows
Request Price

Manufacturer:
Farsite
Part Number:
FS9511
Description:
X.25 Over TCP/IP Software for Windows
Availability:
Approx. 1-3 Weeks
FarSync XOT Runtime - Windows
X.25 Over TCP/IP Software for Windows
FarSync XOT Runtime has been developed to provide high performance and very reliable XOT connectivity for Windows. FarSync XOT Runtime for Windows inter-operates with the FarLinX X25 Gateway , FarSync XOT Runtime for Linux and other third party XOT devices, which can allow a complete X.25 network to be replaced by TCP/IP, eliminating hardware and costs just leaving a short X.25 connection to the host. The diagram above illustrates this.

A comprehensive Developers Toolkit is included with the product.

The API is based on Sockets (compliant with Winsock2) and is compatible with the Microsoft defined X.25
Sockets API. Applications written to use the Microsoft X.25 Sockets API, FarSync X.25 cards and some other commonly used X.25 cards will work with the FarSync XOT product without change.

The API supports standard AF_ISO / ISOPROTO_X25 sockets used by a number of applications, such as
MS-Exchange. It also supports the AF_X25 address family used by the applications written to use FarSync
X.25 products.

Applications developed in most programming languages, including Visual Basic, Delphi, C++ and .NET
applications, can use the Sockets API to FarSync XOT, and there is a Java Extension API supplied to provide
access from Java applications.

Both X.25 SVCs and PVCs are supported with a maximum of 4096 simultaneous connections.

FarSync XOT Runtime is supported on Windows 7, Vista, XP, Server 2003 and Server 2008. Multi-processor,
32 and 64 bit systems are supported. For 64-bit applications support is planned for a future release.

Product Data Sheet