X.25 to TCP/IP Migration
Need to migrate from X.25 to TCP/IP?
We supply a range of TCP to X.25 Gateway's also supporting XOT (X.25 over TCP/IP) and TCP/IP to X.25 data format translation and connection routing.
The FarLinX X25 Gateway is the answer for handling all your X.25 to TCP/IP migration requirements. Featuring routing between TCP and X.25, TCP and XOT, X.25 and XOT, data conversion, a Triple-X PAD, Host PAD, an extension for special POS protocols and even an X.25 switch all at a very affordable cost, the FarLinX X25 Gateway fits the bill for TCP/IP to X.25 interconnection.

The FarLinX X25 Gateway product range is the third generation of X.25 Gateway products from FarSite, providing a very flexible powerful gateway for your X.25 migration needs at a very affordable cost. It incorporates all the popular features of the previous product ranges with an improved browser interface and new comprehensive set of online statistics, connection logging, active session display and status change alert functions to put you in control.
The condition of the Gateway can be monitored from a browser with current line status, real time line and data statistics and real time active session activity available. There are also daily activity logs with a selectable level of detail, automatically archived on a daily basis or routed to a remote server using syslog. The SNMP support provides alerts for a number of different conditions including critical events such as line down and line up.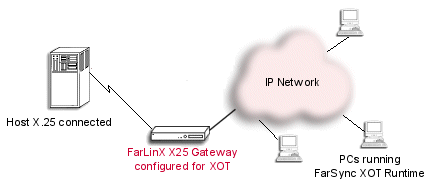 This configuration shows the FarLinX X25 Gateway acting as the link between IP network with PCs running XOT (FarSync XOT Runtime software) and an X.25 connected host.