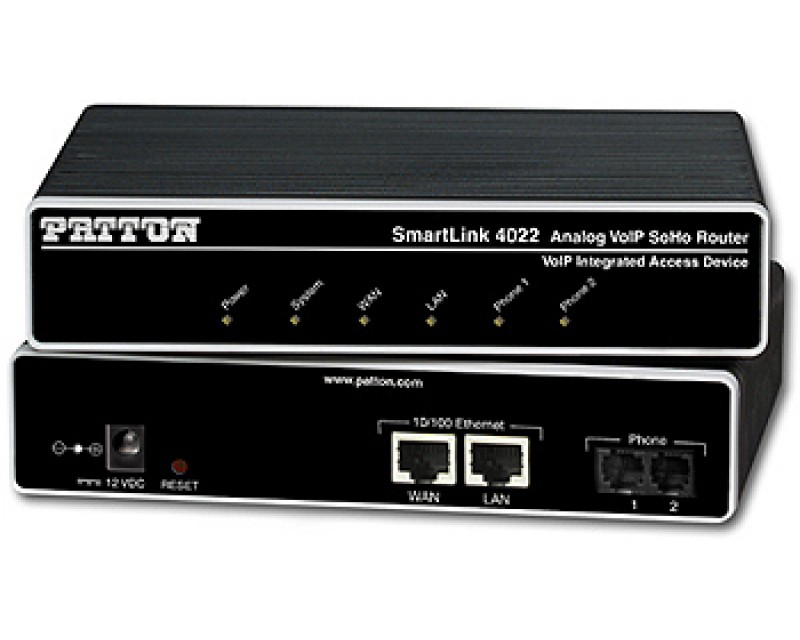 Patton SmartLink 4022
Request Price

Manufacturer:
Patton Electronics Co.
Part Number:
SL4022/EUI
Description:
2-Port, RJ-11/12, SIP, T.38
Availability:
Approx. 1-3 Weeks
Note: This product has a minimum order quantity of 25
Patton SmartLink 4022
Analog VoIP SoHo Router
The SmartLink VoIP SoHo Router provides transparent connectivity for analog phones and faxes to the world of Internet voice. Connecting to any analog phone, fax or PBX, the SmartLink product is an effective and flexible solution for small offices and telecommuters to access Internet-based telephone services and corporate intranet systems across established LAN and Internet connections like xDSL and cable modems. The SmartLink Model 4021 provides two RJ-45 Ethernet ports and one FXS (RJ-11) analog phone port. The SmartLink Model 4022 provides two RJ-45 Ethernet ports and two FXS (RJ-11) analog phone ports. Front panel LEDs quickly show at-a-glance the status of the system, LAN, WAN, and phone ports. A full suite of IP features (DHCP, NAT/PAT, and NTP) are available to LAN devices attached downstream. VLAN tagging and prioritization enables voice traffic to be handled before data traffic. Support for PPPoE simplifies extending corporate intranet services to remote teleworkers.

Product Data Sheet