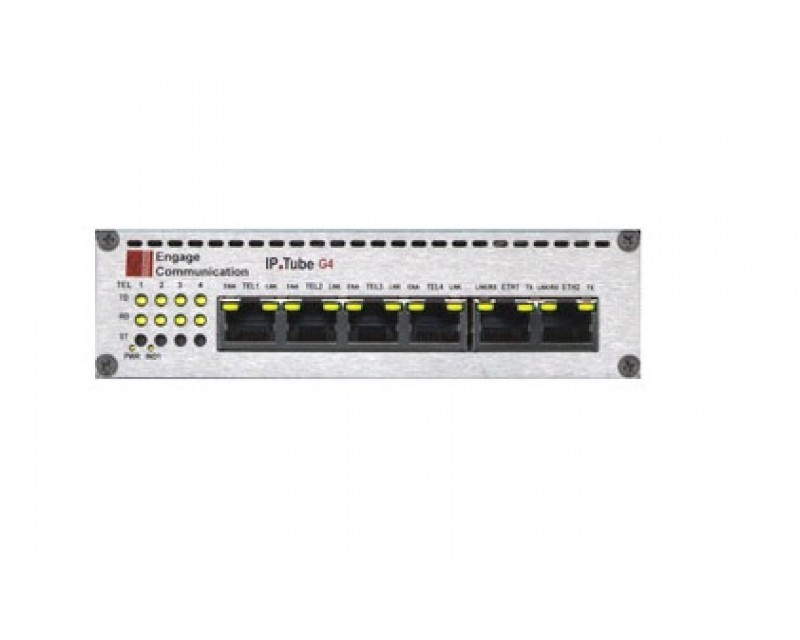 Engage IP Tube G4 E1
Request Price

Manufacturer:
Engage Communication
Part Number:
400-2048-02
Description:
2-Port E1 Over IP
Availability:
Approx. 1-3 Weeks
Engage IP Tube G4 E1
E1 to IP
Enable One to Four E1 interfaces for E1 over IP Voice and Data
The IP Tube G4 E1 is available with one to four E1 interfaces and single 10/100 BaseT Full/Half Duplex Ethernet Interfaces. An optional integrated 5 port QOS/VLAN/Rate Limiting Layer-2 Ethernet switch is available.
An Ethernet Switch Option provides transparent LAN bridging, user data bandwidth and access control through rate limiting and port-based VLAN filtering and tagging.
The E1 interfaces have configurations that for provide independent protocol, compression, packet sizing, buffering, framing, coding and channel settings. Enable additional E1 Ports as needs expand using a software-based license key. The protocols supported are IP•Tube, CESoIP, and HDLCoIP.
Transparent Interconnect
The IP Tube G4 E1's transparent operation maintains the proprietary signaling required to support PBX features such as call conferencing, call forwarding, caller ID and SS7. Legacy phone equipment investment is preserved. Transparent support for Modem, Fax, or Data circuits. Voice quality is not compromised.
**Other connector interfaces available, contact websales@emtec.com.au for further information**

Product Data Sheet