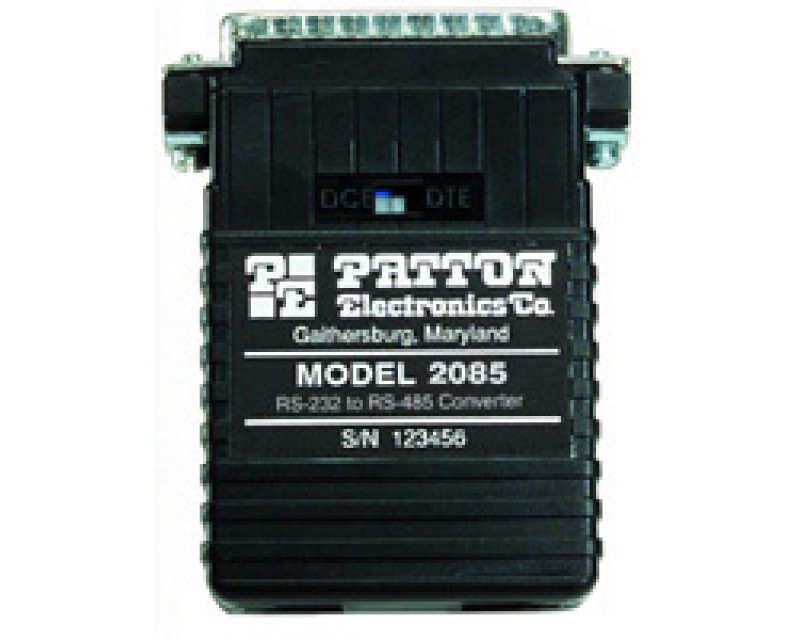 Patton Model 2084F
Request Price

Manufacturer:
Patton Electronics Co.
Part Number:
2084F
Description:
RS-232 to RS-485 Interface Converter with DB-25F
Availability:
Approx. 1-3 Weeks
Note: This product has a minimum order quantity of 25
Patton Model 2084F
Matches 16 sets of dual 75 ohm coax connections to 120 ohm twisted pair connections
Interface Powered, RS-232 (EIA-574) to RS-485 Interface Converter (with Handshaking)
The Model 2084 high speed RS-232 to RS-485 interface converter supports async RS-232 data rates to 115.2 kbps over 2-wires. Passing one control signal in each direction, the Model 2084 can handle up to 50 terminal drops in a multipoint polling environment. The Model 2084 has five configuration parameters, allowing the unit to be "fine tuned" to a variety of point-to-point or multipoint applications. In addition, Silicon Avalanche Diodes provide 600 watts per wire of protection against harmful data line transient surges.
**Other connector interfaces available, contact websales@emtec.com.au for further information**

Manual