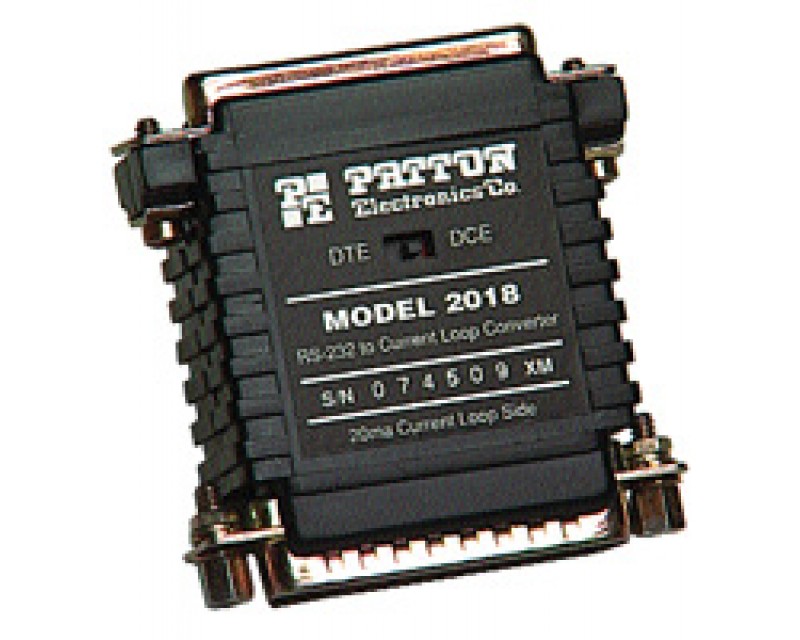 Patton Model 2018M-F
Request Price

Manufacturer:
Patton Electronics Co.
Part Number:
2018M-F
Description:
RS-232 to 20mA Current Loop Converter DB-25M to DB-25F
Availability:
Approx. 1-3 Weeks
Patton Model 2018M-F
Matches 16 sets of dual 75 ohm coax connections to 120 ohm twisted pair connections
RS-232 to 20mA Current Loop Converter (DB-25 to DB-25)
The Patton Model 2018 is an optically isolated, multi-function RS-232 to 20mA current loop converter: Hook it up to an active 20mA current loop circuit and it's a passive converter. Hook it up to a passive 20mA current loop circuit, add DC power to one of several DB-25 interface pins, and it's an active converter. Connect two units together, supply DC power to one interface, and it's an optically isolated RS-232 distance extender. The Model 2018 supports data rates to 19.2 Kbps, and current loop distances to 4 miles (6.4Km) over two twisted pair. The Model 2018 connects directly to either the RS-232 interface or the 20mA current loop interface using a male or female DB-25 connector. An external DCE/DTE switch eliminates the need for RS-232 crossover cables.

Manual