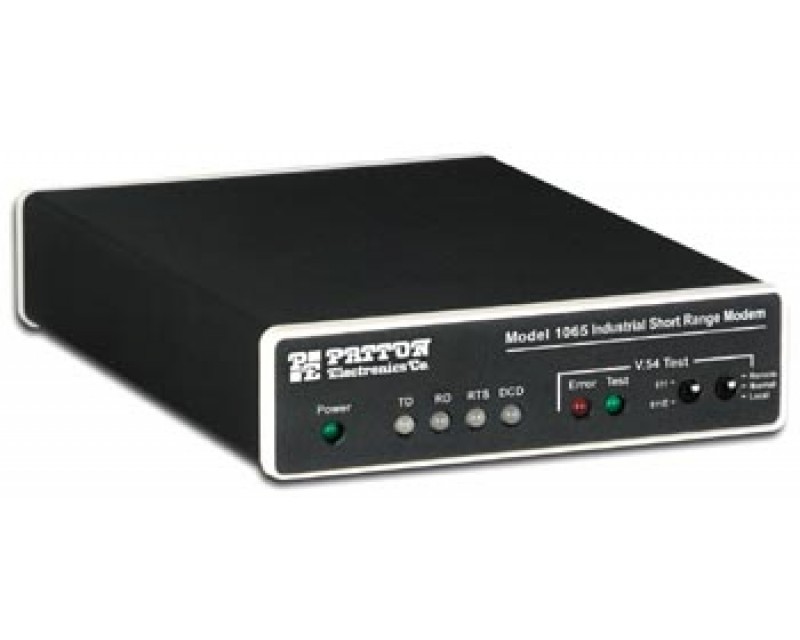 Patton Model 1065
Request Price

Manufacturer:
Patton Electronics Co.
Part Number:
1065/A/230/A
Description:
Sync/Async Industrial Short-Range Baseband Modem
Availability:
Approx. 1-3 Weeks
Note: This product has a minimum order quantity of 10
Patton Model 1065
Matches 16 sets of dual 75 ohm coax connections to 120 ohm twisted pair connections
AC Powered, Sync & Async Industrial-Grade Short-Range Baseband Modem (Environmentally Enhanced)
The Model 1065 Industrial Short Range Modem operates 2-wire (half duplex) or 4-wire (full or half duplex), in synchronous or asynchronous modes, over unconditioned telephone lines,supporting bit rates up to 64.0 kbps. The Model 1065 operates in synchronous mode between the local and remote modems; when connected to an asynchronous RS-232 device, the Model 1065 SRM converts the asynchronous data to synchronous data. The Model 1065 is available in a standalone or rack mount package. Power is provided to the standalone unit through an internal AC (230V) power supply. The Model 1065 has several features to enhance overall performance: equalization, anti-streaming timer, transformer isolation toguard against data loss due to ground potential differences, and Silicon Avalanche Diode surgeprotection to guard against data line transients. The Model 1065 features V.52 compliant bit errorrate pattern tests and two V.54 test modes: local analog loopback and remote digital loopback.The operator at the local end may test both local and remote modems, plus the line, in the digitalloopback mode. Both RDL and LAL modes can be controlled by a manual switch or via theV.24/RS-232 interface.
**Other power options available, refer to product data sheet for further information**

Manual