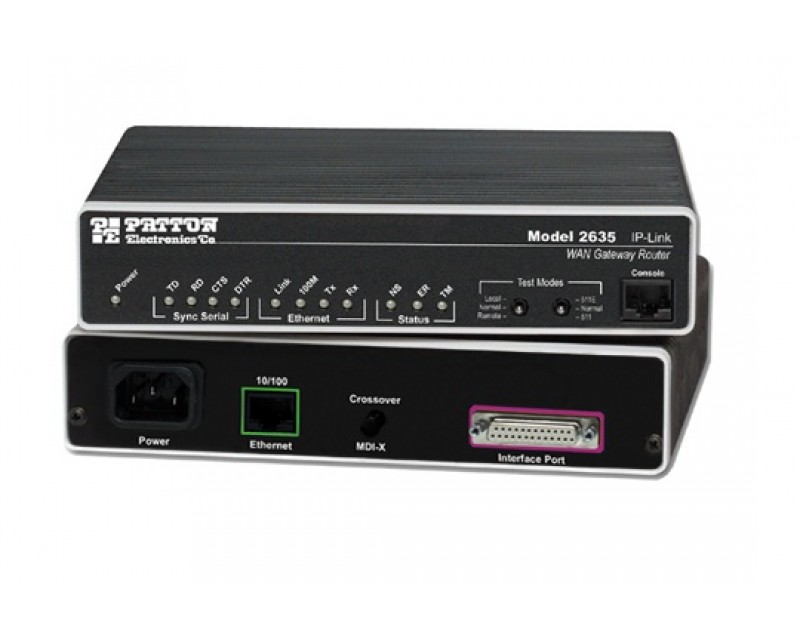 Patton IPLink Model 2635
Request Price

Manufacturer:
Patton Electronics Co.
Part Number:
2635/EUI
Description:
High Speed V.35 WAN Router
Availability:
Approx. 1-3 Weeks
Note: This product has a minimum order quantity of 25
Patton IPLink Model 2635
High Speed WAN Router
The Model 2635 Gateway Routers are the ideal solution for connecting any small to medium enterprise or remote office to an IP/Internet network using standard telco and WAN interfaces. Combining ease-of-use with a full suite of LAN/WAN routing features, the IPLink routers provide selectable bridging or routing functionality along with advanced IP features such as NAT/NAPT, Firewall, and DHCP. A complete set of configurable FR/PPP/IP WAN protocols allow a wide range of choices when connecting branches via common WAN services. The IPLink Routers boast easy installation offering Console/VT-100, Telnet, and https/SNMP management options. All IPLink routers come with an auto-sensing full-duplex 10/100Base-T Ethernet port, cross-over switch, and internal power supply. The Model 2635 comes with a V.35 interface.
**Other connector interfaces available, contact websales@emtec.com.au for further information**

Product Data Sheet