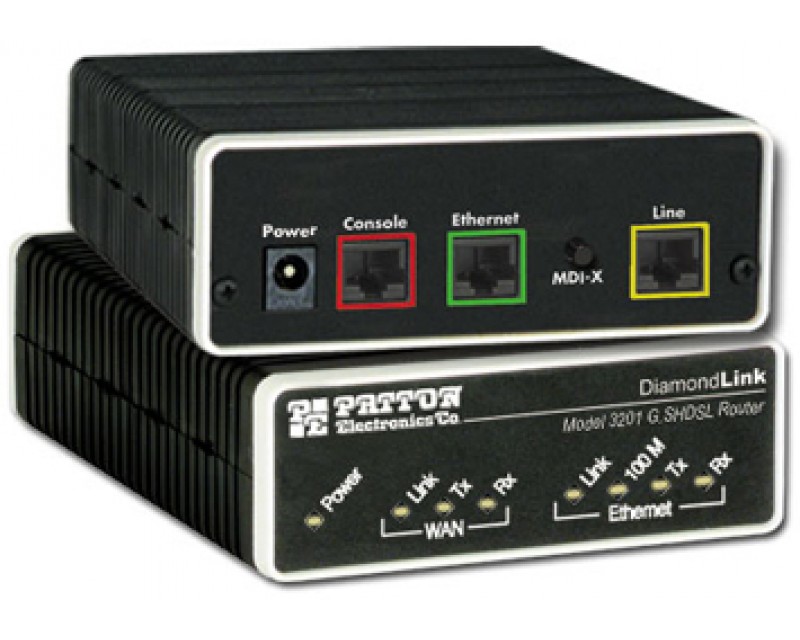 Patton DiamondLink Model 3241
Request Price

Manufacturer:
Patton Electronics Co.
Part Number:
3241/R/UI
Description:
4.6 Mbps G.SHDSL High-Speed Router
Availability:
Approx. 1-3 Weeks
Patton DiamondLink Model 3241
G.SHDSL High-Speed Router
Combining standards-based ITU/ETSI G.SHDSL transmission with high speed IP routing, the Model 3241 DiamondLink is perfect for bandwidth intensive applications such as LAN-to-LAN networking, multimedia services, and e-commerce transactions. Based on the International Telecommunications Union (ITU) and European Telecommunications Standardization Institute (ETSI) G.SHDSL G.991.2 standard, the Patton 3241 DiamondLink router enables providers to extend their reach-and-range by delivering rate-adaptive nx64 symmetrical speeds from 192 kbps to 4.6 Mbps—all over a single pair of wires. The Model 3241 offers easy installation and turn-up. With G.hs support for auto-line configuration and ATM, PPP, or Frame Relay, the Model 3241 offers simple interfacing to any network. Its standard IP feature set provides bridging and routing functionality along with advanced IP features like NAT and Firewall, and optional IPsec-based VPN. Get point-and-click control with the Model 3241's built in https/SNMP management interfaces. As part of Patton's family of ipDSL products, the Model 3241 offers a complete, managed, end-to-end system when used with Patton's central site ipDSLAM equipment. With these features the Model 3241 offer the clear and easy choice for mission-critical networking.

Product Data Sheet