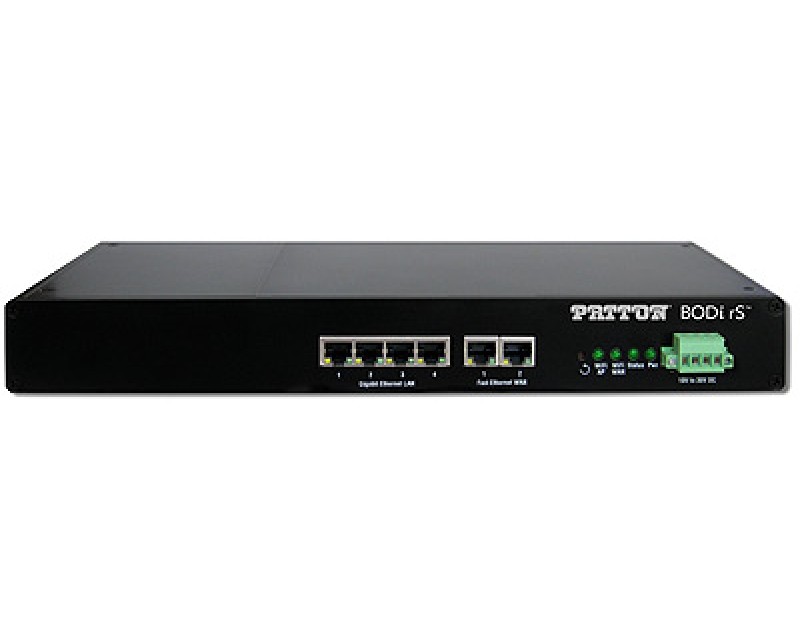 Patton BODi rS BD004
Request Price

Manufacturer:
Patton Electronics Co.
Part Number:
BD004/EUI
Description:
High Availability Mobile Bonding/Balancing Router
Availability:
Approx. 1-3 Weeks
Patton BODi rS BD004

Bandwith-on-Demand Bonding Router

Patton's BODi rS BD004 is small, light and full featured. Unique bonding, load balancing and failover technology ensures bandwidth robustness and network survivability. All this combined with IPsec VPNs and WiFi mesh capability makes BODi rS the ideal fixed or mobile solution for secure, seamless network connectivity and backup. Always. Everywhere.

Ultimate On-The-Go Performance
The BODi rS mobile VPN bonding router automatically shares internet traffic across wired, wireless & satellite links. This increases connection stability, reliability and makes maximum use of all available bandwidth. Users also have the ability to scale bandwidth on-the-go, adding or removing connections, giving priority to lower cost links when demand allows, thus minimizing costs while still providing excellent reliability that scales as needed.

BODi rS also guarantees uptime making it the ideal solution for mobile connectivity with network failover and bandwidth robustness.

Survivability: Network Bandwidth Assurance
BODi rS combines up to seven 3G/4G, WiMAX, LTE, VSAT, WiFi, and other mobile connections to deliver consistently high speeds and five nines availability. Combine up to four USB modems, three ethernet modems and add broadband landline connections for blazing fast internet connectivity and data transfer anywhere, anytime.

BODi rS is the perfect solution for high availability connectivity and internet failover. This is especially important for applications in e-Healthcare, security alarm companies and critical infrastructure where loss of connectivity can be catastrophic, resulting in huge revenue losses and potential risk to human life.

Mobility: Fully Portable & Rapidly Deployable
A highly durable, rugged enclosure, and multiple bonded connections make BODi rS the ultimate mobile bandwidth-on-demand solution.

By using BGAN & VSAT networks, remote and marine applications can avail of high speed & reliable connectivity while on the go. By aggregating multiple wireless links, BODi rS offers users broadband-like internet speeds for high quality reliable communications.

For extra security and ruggedness, all modems are harnessed internally. This avoids loss and damage to the modems.

Product Data Sheet