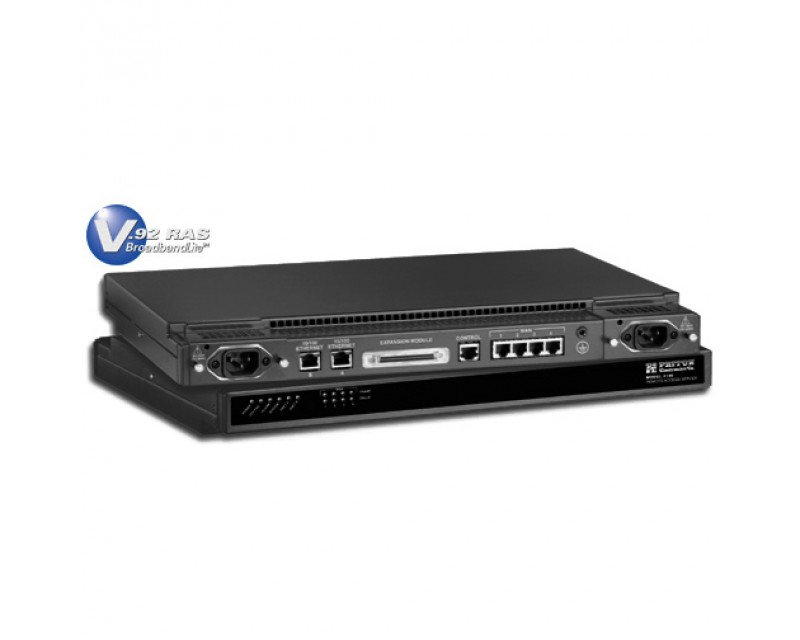 Patton 3120/60
Request Price

Manufacturer:
Patton Electronics Co.
Part Number:
3120/60B/R-230
Description:
60-Port Remote Access Server
Availability:
Approx. 1-3 Weeks
Patton 3120/60
Quad E1/PRI Remote Access Server (RAS)
The Model 3120 Remote Access Server supports up to 120 digital ISDN or analog (V.110, V.92, V.90, K56Flex, V.34, etc.) modem connections in a single 1U high (1.75 in./4.45 cm) rack-mountable chassis. The Model 3120 is the highest density, lowest profile remote access server available anywhere. With its dual-redundant hot-swappable AC or DC power supplies, the 3120 RAS protects against single points-of-failure. It has two 10/100-Mbps Ethernet ports for load sharing and traffic balancing. For maximum flexibility, the 3120 includes an expansion slot that can be customized with optional PMC modules that support STAC compression, VPN resources, additional 96/120 T1/E1/PRI WAN ports, or an xDSL module. ISPs can add asynchronous ports for terminating servers or dedicated DSL modem ports for increasing service offerings and revenue. The Model 3120 is a one-of-a-kind Network Access Unit.
**Other power options available, refer to product data sheet for further information**

Product Data Sheet