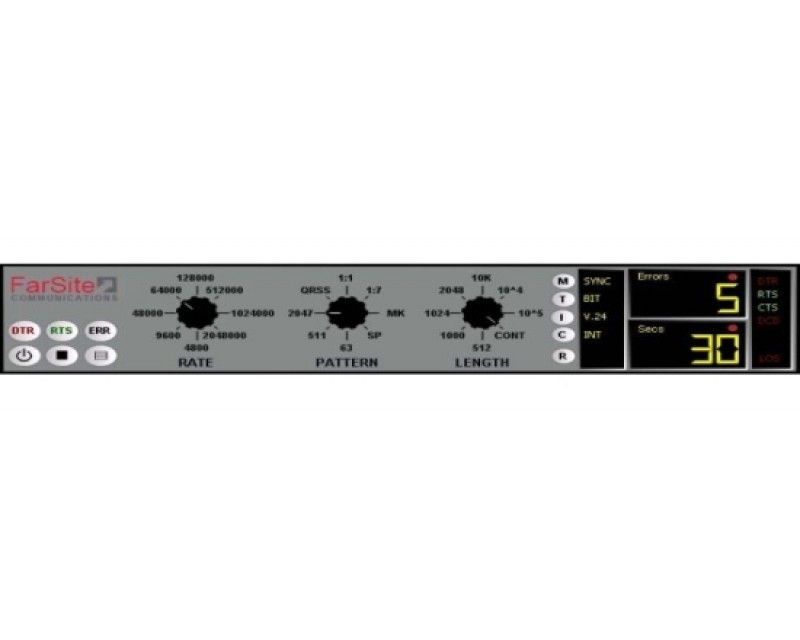 FarSync BERT Tester - USB
Request Price

Manufacturer:
Farsite
Part Number:
FS4105
Description:
BERT Line Quality Tester (USB)
Availability:
Approx. 1-3 Weeks
FarSync BERT Tester - USB
BERT line quality tester for Synchronous and Asynchronous lines
The FarSync BERT provides a comprehensive, simple to use, all in one, line testing utility for testing asynchronous and synchronous lines from your Laptop PC. There are no extra expensive modules to buy to test different line types. All the popular standard BERT test patterns can be selected; the test period can be controlled; real time error counters and full line test statistics are provided as well as support for user controlled error injection.

Lines with network interfaces RS232 (V.24), V.35, RS530 (EIA530), RS422, X.21 (V.11), RS449 and RS485 (4 wire) can be tested with line speeds ranging from 15 baud up to 2 Mbits/s.

The FarSync Flex adapter is simply plugged into any of your Laptop's USB ports; select one of the cables provided to connect to the line to be tested; the BERT application can then be started and the line quality results are displayed in real time.

API access for LabVIEW or Windows applications enables the tests to be run, and the results obtained, programmatically.

Line Monitor software, which includes support for use with Wireshark, is also included in the product. Line Monitor cables are ordered separately.

Below is a BERT Tester demonstration video:
To download this video, right-click here and select 'Save Link As'.

Product Data Sheet